The big day is almost upon us!
The 2020 Small Business BC Awards Gala is a few short weeks away and the time has come to reveal our Top 5 Finalists.
Our judges deliberated long and hard over a strong field of applicants, emerging with their picks for the Top 5 in each award category. These businesses will now be invited to attend a Dragons' Den-style pitch to a panel of business experts who are tasked with selecting the best of BC's small business community.
The 2020 competition began in the fall, with over 600 small businesses receiving nominations. We were pleased to see nominations from across our beautiful province and this year's finalists have emerged from a strong and varied field. Above all else, they have demonstrated the importance of small business in our communities and the valuable contributions they make to our provincial economy.
"We are thrilled with the engagement of B.C.'s small businesses and the communities that support them as we prepare to host the 17th Annual Small Business BC and Open for Business Awards next month. We extend our heartfelt congratulations to all of the finalists entering this last leg of the competition." – Tom Conway, CEO, Small Business BC.
"Canada Post is pleased to once again celebrate the success of small businesses and entrepreneurs through our involvement in the Small Business BC Awards. We look forward to sharing their stories of success and helping to support the growth of these businesses." – Danielle Doiron, General Manager of Marketing at Canada Post.
Here are your Top 5 Finalists for the 2020 Small Business BC Awards: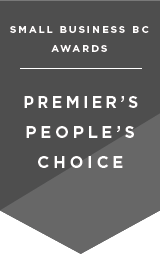 Presented by the Province of British Columbia 
Boteco Brasil, Vancouver
Catoro Café, Vancouver
Griottes Polyglottes, Vancouver
Reuse Bags, Port Moody
Skwalwen Botanicals, Brackendale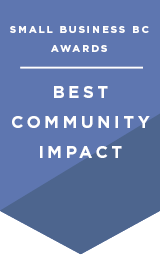 Presented by Vancity
Catoro Café, Vancouver
Ginger Jars, Gibsons
Guru Nanak's Free Kitchen, New Westminster
Rio Theatre, Vancouver
Squamish Connector, Squamish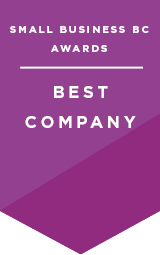 Advanced Storage Centres, North Vancouver
Evision Media, Abbotsford
Foxy Box Wax Bar, Victoria
Green Chair Recycling, Vancouver
Twirling Umbrellas, Kelowna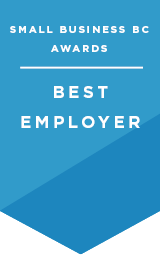 Presented by ADP
Emelle's Catering, Vancouver
Geoscan Subsurface Surveys, Burnaby
Kleiner Services, Burnaby
Propel Solutions, Vancouver
Withinus Natural Health, Burnaby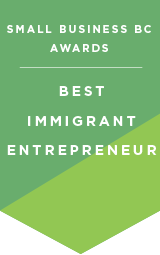 Presented by BDC
Amiante Environmental Consulting, Abbotsford
High Beam Dreams, Gibsons
i4C Innovation, Trail
Magnum Construction Services Inc., New Westminster
Mansouri Immigration Firm, West Vancouver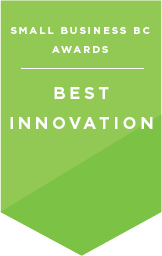 Presented by Pacific Economic Development Canada (PacifiCan)
Advanced Quality Systems, Vancouver
Goose Insurance, Vancouver
Grizzly Force, Vancouver
Kinzoo, Vancouver
Reusable Bubble Tea Cup, Vancouver
Ay Lelum Good House of Design, Nanaimo
Culture Kefir Co., Richmond
Emelle's Catering, Vancouver
Hunter Browns, Richmond
Summit Tiny Homes, Vernon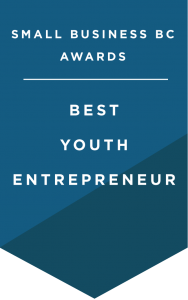 Presented by KPU
Eat the Dishes, Surrey
Elevate Ultimate, Burnaby
Flourist, Vancouver
Mismack Clean Cosmetics, Salmon Arm
Sweet Lavations, 108 Mile Ranch
The Next Phase
As a Top 5 finalist, nominees will be requested to present a 10-minute pitch to a judging panel at the Small Business BC office in Vancouver (or via Skype or video conference if outside the Lower Mainland). Pitches will take place early February 2020, and details on the presentation format will be provided to the Top 5 Finalists. Pitches will be followed by a short Q & A session from the judging panel.
Winners Announced Friday, 21 February, 2020
The winners will be announced at the Small Business BC Awards Gala and will receive the Premier's Prize in the amount of $1,500 cash, a one-year All-Access Pass to Small Business BC education and experts, and the honour of being named one of B.C.'s top businesses.
The Small Business BC Awards Gala brings together over 600 small business owners, supporters, providers and government officials to network at a glittering reception and enjoy a three-course dinner, as we announce this year's winners. Join us, on this special night, as we raise a toast in honour of the small businesses, on their night to shine on the podium.