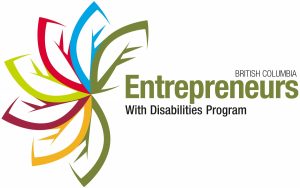 Looking to start or grow your business? Join us for Accessibility Month in January 2020 featuring over 20 seminars, all with in-person ASL interpretation. A variety of topics will be covered, from business planning and financial management to market research and selling to the Government! All seminars are available at Small Business BC in Vancouver, or by webinar province-wide, in partnership with the Office of Small and Medium Enterprises and Community Futures BC & the Entrepreneurs with Disabilities Program.
The Community Futures Entrepreneurs with Disabilities Program can provide financial assistance for individuals who self identify with a disability or ongoing health condition. This assistance is for the cost of the seminar fees only. Approved clients are free to attend more than one session in January.
The personal information on this form is used to provide the staff of the Entrepreneurs with Disabilities Program with up to date contact information and background information. Control measures will protect your personal information and privacy. Your contact information may be disclosed to an authorized employee, agent or contractor of the Government of Canada to evaluate the effectiveness of services provided and to evaluate the results of federal programs.